Ford Mobile Services

Bob Moore Ford Mobile Service
Is it hard for you to take off work to get your vehicle serviced? Perhaps you have such a crazy schedule that you can't always determine a good time to make an appointment. Bob Moore Ford wants to help you care for your vehicle with regular service. If you are within 15 miles of Bob Moore Ford in Oklahoma City, let us come to you with our mobile service.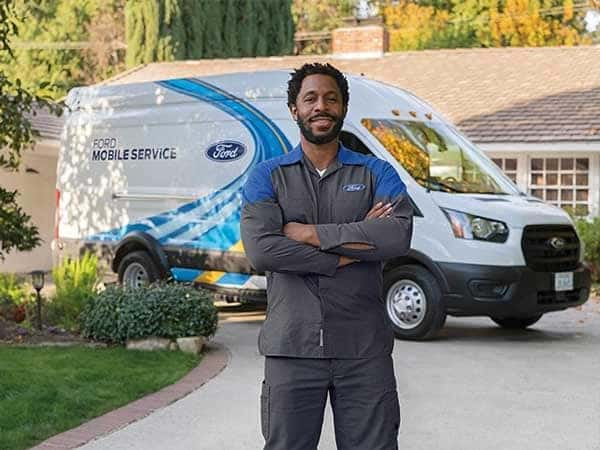 What is Mobile Service?
For our customers who are located within 15 miles of our dealership around Oklahoma City, Edmond, and Norman, we provide mobile service that fits your schedule. Our service technicians will come to your location and take care of basic maintenance for your car, truck, or SUV.
Mobile services we provide include the following:
Oil and filter change
Battery testing and replacement
Tire rotation
Windshield wiper replacement
Fluid flush and refill
Brake testing and other brake services
Our technicians will take the time to perform a multi-point inspection just like what you would get in our service center. This inspection covers the basic systems of your vehicle. We'll point out issues light a burned-out headlight or taillight, fog lights that aren't working, or belts or hoses that need to be replaced.
While we're looking at your vehicle, we'll update the vehicle software and replace the light bulbs. Our goal is to keep your vehicle in prime condition without unnecessary interruption to your life.
You can rely on our mobile services in the same way that you trust our service department at Bob Moore Ford. Our service team only uses genuine Ford parts to ensure that your vehicle continues to perform its best.
Scheduling mobile service with Bob Moore Ford is just as easy as scheduling your regular service. You can call us to set up an appointment or visit us online to schedule a visit when it works best for you.
Service You Trust at Bob Moore Ford
If it's more convenient for you or you live further away than 15 miles, you can still schedule an appointment at our service center. Our center is fully staffed and trained to work on all Ford systems. We have the latest equipment to diagnose and repair your car, truck, or SUV. Our team also provides minor and major repairs at our service center to get your vehicle back up and running.
You can relax in our comfortable waiting area with free Wi-Fi while we diagnose or work on your vehicle. If the repair is going to take longer or you don't have time to wait, our shuttle service will take you where you need to go. We provide a written estimate of all recommended repairs and let you know if it needs to be completed ASAP or in the near future.
Let Bob Moore Ford help you care for your vehicle while not disrupting your day with our mobile service. To us, you're more than just a sale, you're part of the Bob Moore Ford family. Schedule mobile service with us today.