Ford Electric Vehicles & Hybrids Near Oklahoma City, OK
New public opinion and state and federal legislation have led manufacturers to turn much of their attention to the development of electric and hybrid electric vehicles to lessen the economic and environmental impact. Ford has led the way in much of this development with some great hybrid and fully-electric vehicles. If you are near Oklahoma City, Edmond, or Tulsa, you can find these alternative-fuel Ford models at Bob Moore Ford.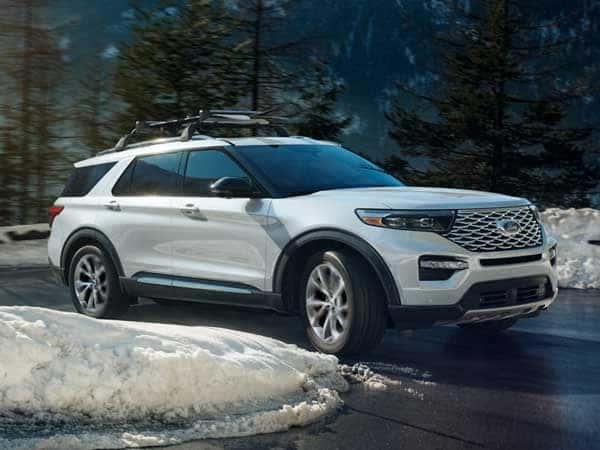 2022 Explorer Hybrid
Ford's largest SUV is also available in hybrid form with the Explorer Hybrid. The family-sized vehicle has room to spare for up to eight passengers in its three rows and still has the capability to tow up to 5,300 lbs. Bring that family RV or your boat to go fishing with your friends.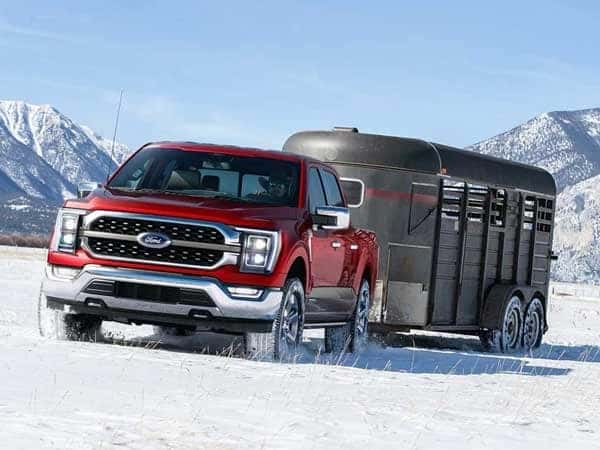 2022 F-150 Hybrid
The F-150 is one of the truck industry's leading full-size pickups on the market. Combined with its hybrid drive train, this pickup offers a range of 650 miles. This truck does not spare the horses with a staggering 430 hp, a towing capacity of up to 9,700 lbs., and 570 lb.-ft. of torque.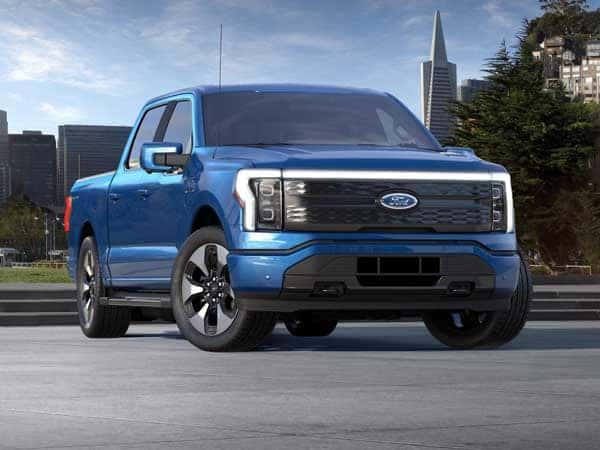 2022 F-150 Lightning
As a powerhouse, Ford's F-150 Lightning can power your house for three days as a generator. This F-150 still offers considerable work power as well, with a towing capacity of up to 7,700 lbs. with 426 hp, 775 lb.-ft. of torque, and a payload capacity of 2,235 lbs. Go further with an estimated range of 240 miles with a fully charged battery or 320 if you opt for the extended-range battery.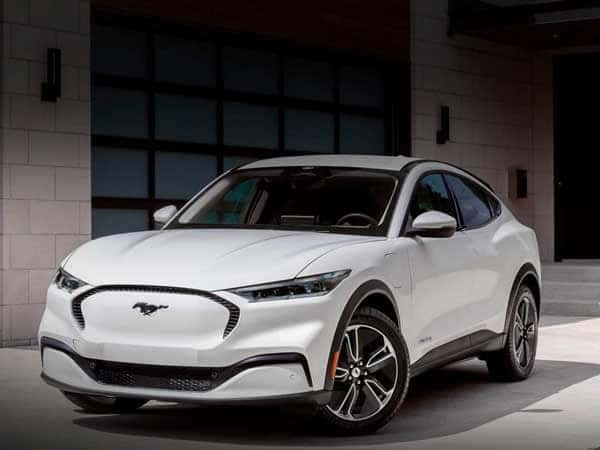 2022 Mustang Mach-E
One of the most iconic Ford vehicles on the market and now in an all-electric crossover, this Mustang Mach-E follows in its predecessor's tire tracks punching out a considerable 480 horsepower with a 0-60mph rating of 3.5 seconds. Keep going further with an impressive battery range of up to 312 miles on a single charge.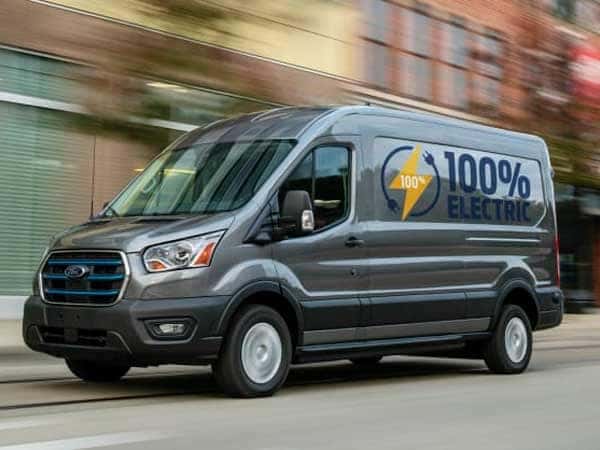 2022 E-Transit
One of the industry's most popular work vans is available in an all-electric model with Ford's E-Transit. With customizable dimensions, you can choose from low roof to high roof and from normal length to extra length to adapt your E-Transit to fit your career's mission. This van is designed with work in mind, having a range of up to 126 miles on a single charge.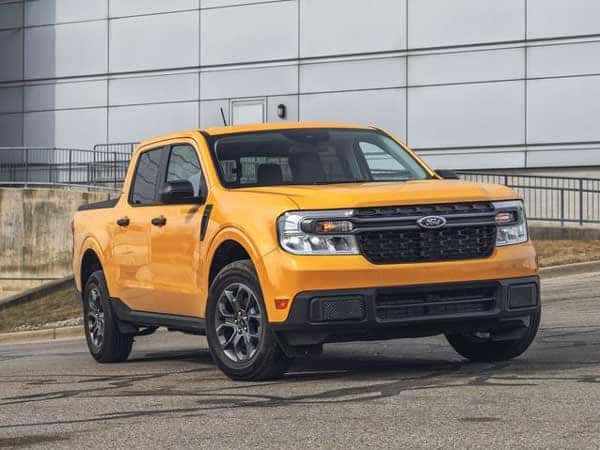 2023 Maverick
This compact pickup comes with some fun perks, but it also has muscle with a hauling payload of 1,564 lbs. and a towing capacity of up to 2,000 lbs. Its enhanced hybrid range allows you to travel with up to 42 mpg and a range of 511 miles combined.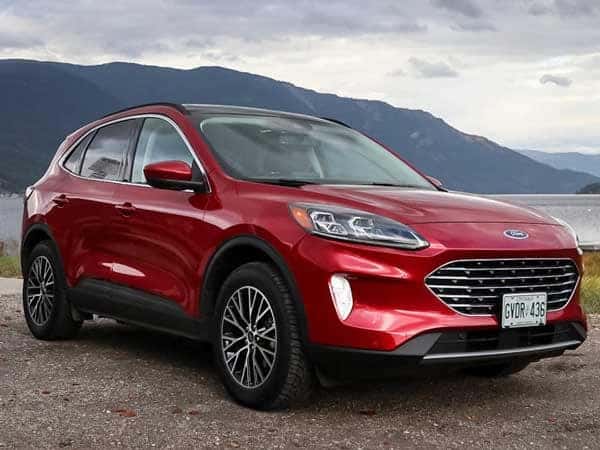 2022 Escape Hybrid
Stretch out your weekly travel budget with the Ford Escape Hybrid's enhanced mpg. With the electric charge and the gas fuel combination, this compact SUV helps you go farther on less, with approximately 44 miles per gallon combined. Your Escape is packed with advanced technology features for connection and comfort.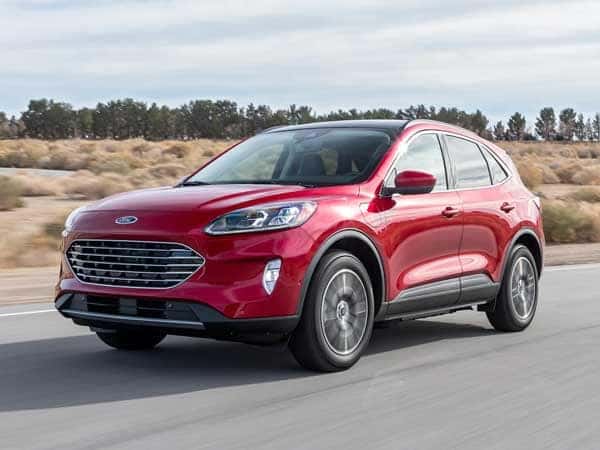 2022 Escape PHEV
Like its cousin, the Hybrid, this Ford Escape has your wallet in mind, affording you an enhanced 36 mpg on a charge, but with the ability to charge anywhere. You can plug your Escape PHEV in at home and have a fresh charge every morning. This version still has all the advanced technology, comfort, and convenience you expect from Ford's most popular compact SUV model.
Get to know these electrified Ford vehicles up close when you visit Bob Moore Ford.